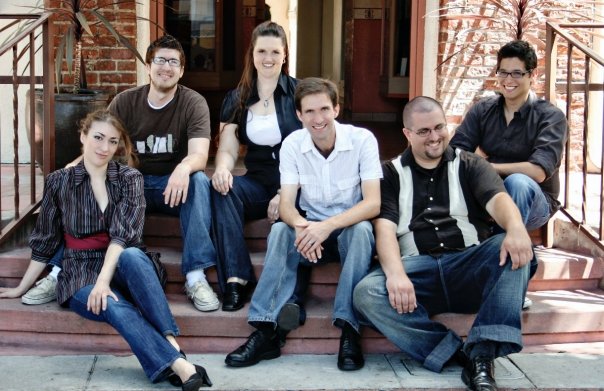 SoundStage circa 2008 (Left to right): Kim Reed, Ryan Williams, Jammie Hampton, Bradley Hampton, Kyle Bowen, Joseph Livesey
SoundStage is a fixture of the vibrant Southern California a cappella scene, acclaimed for impressing audiences with their tight, unique jazz-infused sound and providing uplifting impactful entertainment.
SoundStage has quickly achieved numerous honors, some of which include winning a new car and radio play from jingle competitions, taking top honors at the LA Regional Harmony Sweepstakes (in 2008 and 2010), and enjoying 2nd place and a headlining tour at the 2009 Taiwan International Contemporary A Cappella Festival.
SoundStage can be heard singing:
-The jingle spots on
The Tim Conway Jr. Show
including the intro music for The News Bender and the game "What the Hell Did Jesse Jackson Say?"
-The theme song to "
Dead Grandma
" Created by Will Kindrick and hosted by Jon Heder
-On Emerald City Production's CD:
Sing Me a Song: A cappella from Around the World for Kids
. It s a benefit album for children with Cerebral Palsy. We sing track #8 Hush Little Baby
Some comments from people in the biz:
"SoundStage is the most exciting new a cappella vocal ensemble I've heard since Sixth Wave debuted back in 2001. Their charts are creative & musical and their voices are excellent, both in ensemble and as soloists. In addition, they have an energy that's very infectious & exhilarating. I hope they keep providing musical thrills for a long time." (Will Hamblet - Harmony Sweepstakes)
"OVER THE RAINBOW was the highlight of your album." (Gene Puerling - Grammy award-winning genius arranger)
"That was the best rendition of THE STAR-SPANGLED BANNER I have ever heard! And it was live!" (George Pennacchio - ABC Eyewitness News)
"Y'all kick some serious butt!!" (Barry Carl - Rockapella)
"Damn! You guys is good!" (Deke Sharon - The House Jacks, CASA, creator of Pitch Perfect & The Sing Off)
"SoundStage is quite easily the best music to come out of our Performing Arts Center since we opened the school. Their tone, blend, grasp of style, and love for the music is an inspiration to both my students and myself." (Shane Churchill - Music Director, Granite Hills HS)
"Bobby [Troup] would be so proud!" (Herb Ellis - Actor and beloved friend of Bobby Troup - speaking of our Route 66)
Members past and present: Jammie Hampton, Kim Reed, Brittany Rae, Colleen Keene, Monica Babcock, Apryle Dalmacio, Kristin Morton, Christina Wilson, Holly Hierman, Bradley Hampton, Bryan Malolot, Mossi Watene, Andy Cummins, Kyle Bowen, Ryan Williams, Johnny Figueroa, Todd Honeycutt, Anthony Starble, Joseph Livesey, Brady Bluhm, Tom Keyes, Justin Olvey, Josh Odom.
A few of the local venues where SoundStage has performed:
Montclair National Night Out (sponsored by Target)
San Diego and Los Angeles County Fairs
The International Rotary Club International Conference - L.A.
Rancho Cucamonga Quakes
Rancho Cucamonga Victoria Gardens
Riverside Festival of Lights
Upland Creche Music and Arts Festival
The Foothill Unity Center - Monrovia, CA
Covina Community Concert Series
Anaheim Gardenwalk
Yorba Linda Javapella
Interested in having SoundStage sing for you?
Contact:
Bradley Hampton
909.730.3241
acappellaizer@yahoo.com